Portrait of an Artist
---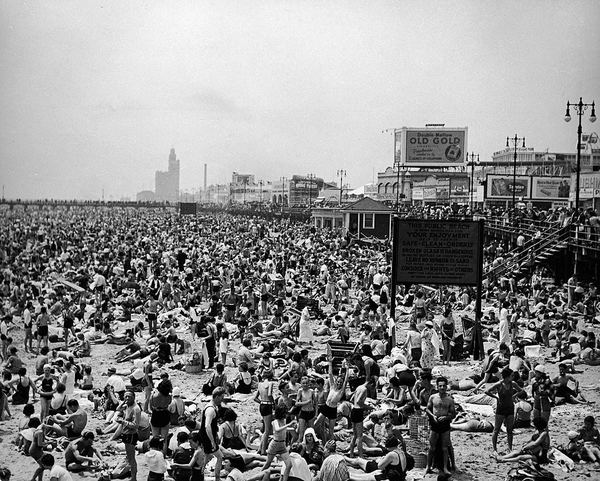 Coney Island in the 1930s/40s. Photographer Unknown.

A typical weekend on Coney Island beach. As a boy, Marty made pocket money selling knishes on the beach.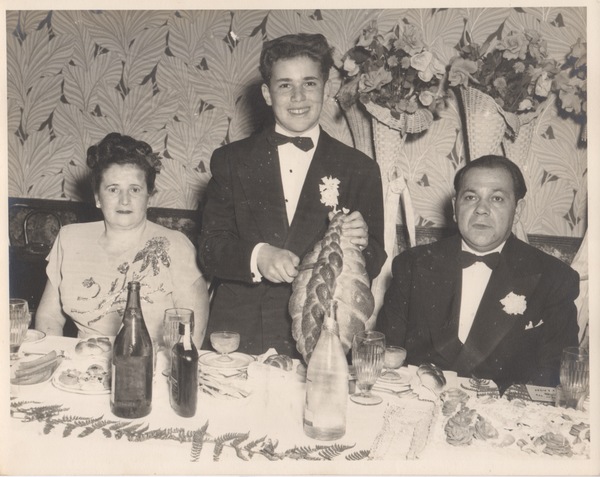 Marty Greenbaum's bar mitzvah, Jenny Katz (left), Reuben Greenbaum (right), 1947.

At his bar mitzvah with his parents, Jenny (nee Katz) and Reuben Greenbaum. Marty's father was a baker and his mother, a homemaker, died when he was 14.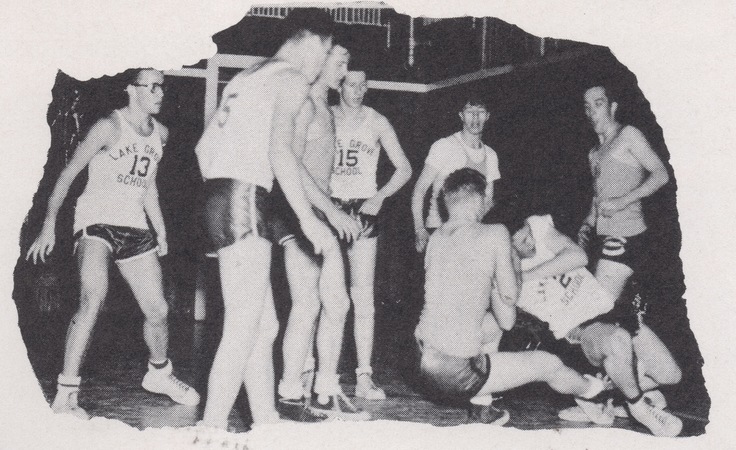 Greenbaum on the court, #13, Lake Grove High School 1951-52.

He played both basketball and baseball in high-school and attended The University of Arizona on a basketball scholarship.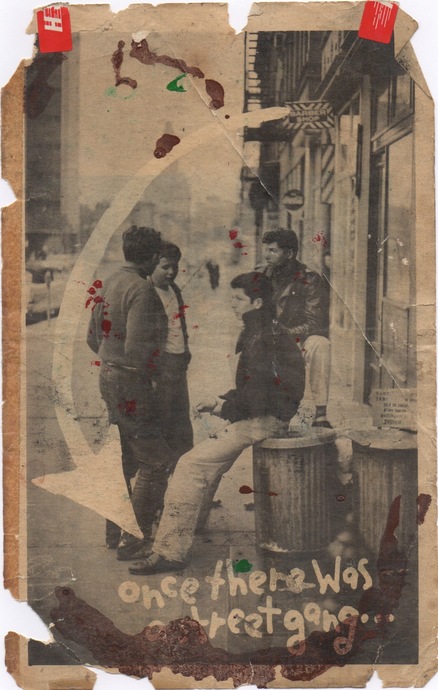 "once there was a street gang" Marty with the "Pharoahs", Holy Trinity, altered photo. Marty Greenbaum

After college, Greenbaum returned to Brooklyn, working as a counselor through the Jewish Board of Guardians: The Girls Club, Holy Trinity Church, and Kaplan House on Saint Marks Place.

"Marty worked for a nyc youth board program that brought local youth groups together with artists. He invited me to photograph teenagers in a program held at a Brooklyn Heights church. We'd have talk sessions with kids about drugs and social problems. Marty, like a big brother, won their trust. I'd take pictures and return with them. Images often opened talks about personal issues that otherwise would have been kept left secret: criticisms, and associative responses played a lay-therapeutic role, made them more willing to see 'ahead' instead of feeling hopeless. Marty's generosity of spirit helped kids feel better about themselves." Arthur Freed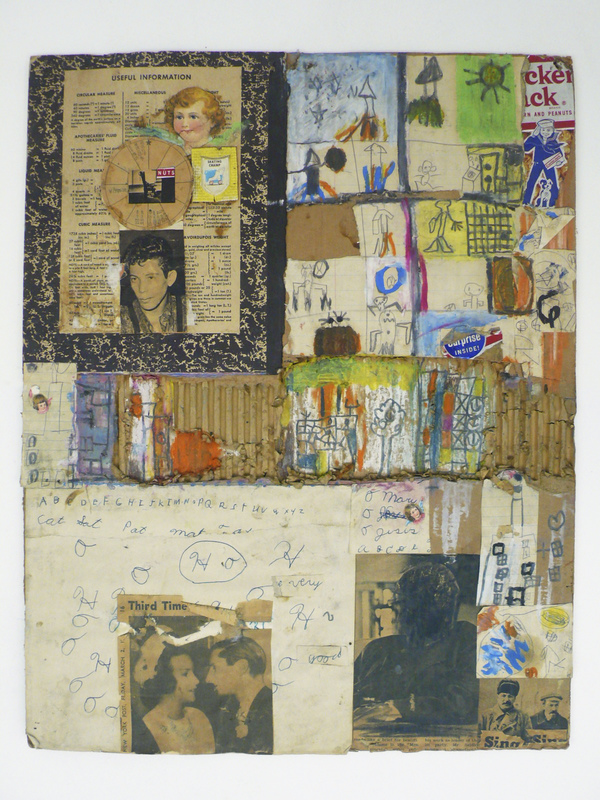 School Days
1962
mixed media
18 x 14.25"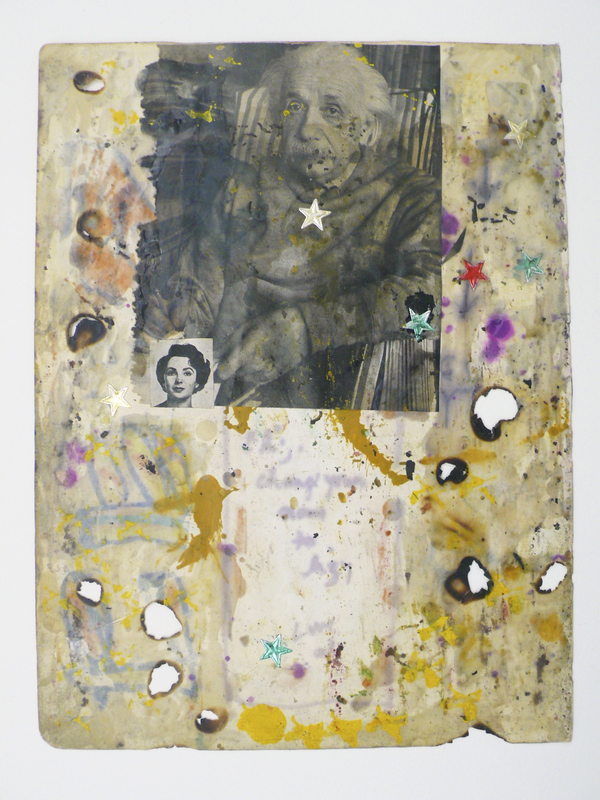 Letter for Al
1963
mixed media
10 x 8"
East Harlem, photograph, 11" x 8.5" x 1960-61. Marty Greenbaum

Walker in the City
"Marty took to photography in an instant. It mated his love of walking to aesthetically observing urban minutia. He was a body in space capturing familiarity's often ignored beauty, the undervalued marks and surfaces one usually passes by." Arthur Freed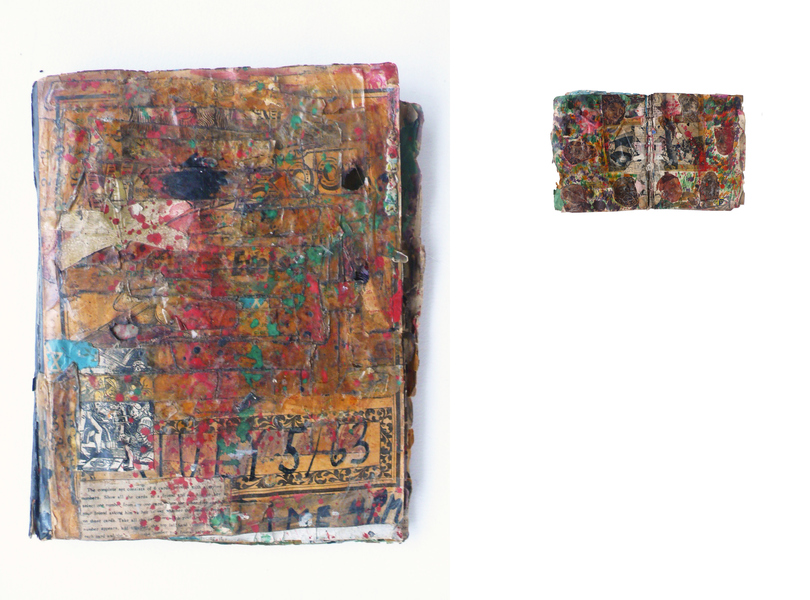 For Lulu
1963
mixed media
8.5 x 14 x .5"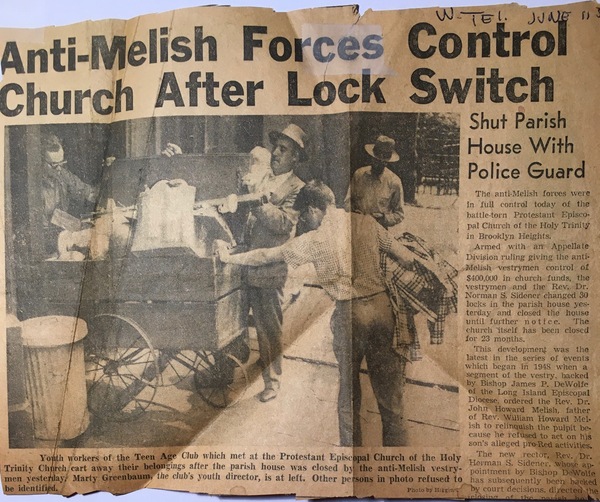 Youth workers of the Teen Age Club which met at the Protestant Episcopal Church of the Holy Trinity Church cart away their belongings after the parish house was closed by the anti-Melish vestrymen yesterday. Marty Greenbaum, the club's youth director, is at left. New York World Telegram and Sun, June 11, 1958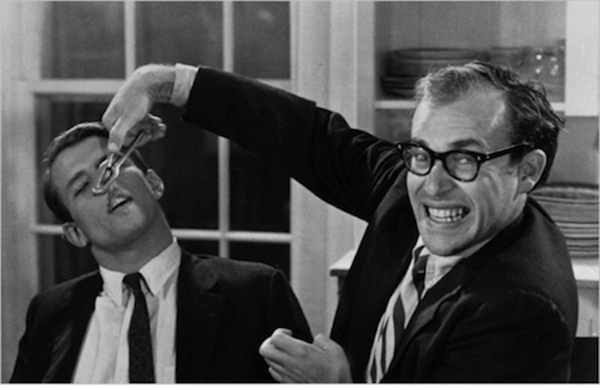 Marty Greenbaum in Hallelujah the Hills with Peter Beard, 1963.

Film, Hall of Issues-Judson Church, Postmodern Dance, Performance Art

Greenbaum frequented the Brooklyn Library at Grand Army Plaza gathering films for the teenage club at Holy Trinity Church, where he met Adolfas Mekas, the film librarian. Adolfas would cast Marty in his first acting role as Leo in Hallelujah the Hills, 1963.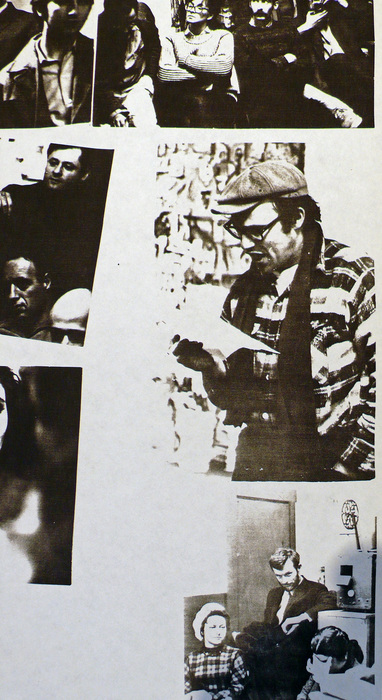 Marty reading (middle right) at The Hall of Issues, Judson Memorial Church, New York, NY Greenbaum co-organized these weekly events with Phyllis Yampolsky.

"Every Wednesday evening, hosted by an up and coming Ed Koch, was talk-out night; politics, petitions, guest speakers. debates, music, poetry, experimental films….. For this event, all the 4 x 8s, containing the Sunday postings were reassembled, and the room again became the very visual Town Hall….Marty and I operated this extravagant rhythm. Without Marty, the Hall of Issues would probably not have continued… Without questions, comments or complaints. Marty was simply there. We never even met for a coffee, outside the Hall….. Now I am able to be stunned by the super human heights of love and devotion Marty gave to the Hall. At that time, so in need was I, we simply accepted what had to be done…." Phyllis Yampolsky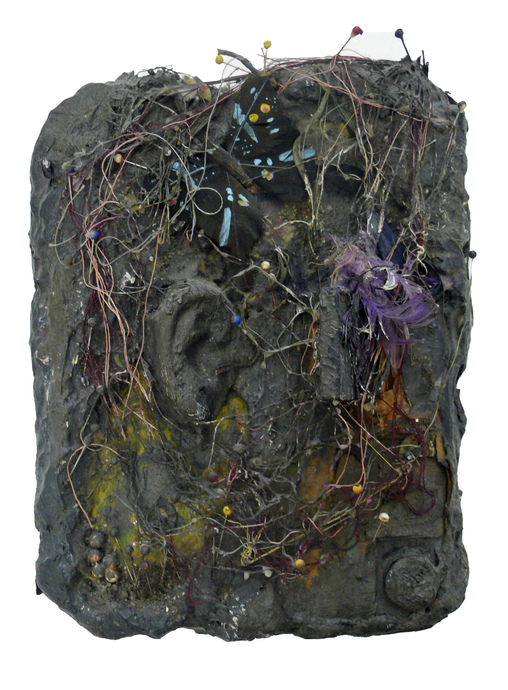 Mira, Listen, birds
1962
mixed media
4 x 7 x 9"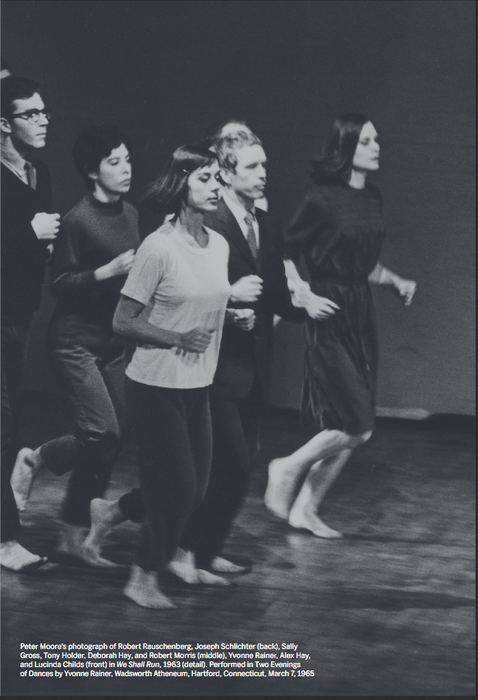 We Shall Run, 1963 (detail). Performed in Two Evenings of Dances by Yvonne Rainer. Photo by Peter Moore.
More info here:
Interview with Yvonne Rainer:
Marty Greenbaum was a Judson character. When I first met him he was taking magazines and painting them and burning them. He was a kind of Abstract Expressionist, junk painter. He presented himself as a complete eccentric; he'd go around with dice and little whistles. He'd give you some dice and say "Let's play," and you'd make up the game as you went along. He loved hanging out at Judson. He was in Peter Schumann's Totentanz and he was quite good. So I asked him to be in this. Lulu Farnsworth was his girlfriend, and I never saw her before or after that.

Banes, Sally, Democracy's Body: Judson Dance Theater, 1962-1964, Duke University Press, 1993. P. 176. Interview conducted (1980).
Marty performed in ROOM SERVICE (1963) by Yvonne Rainer from a collaboration with Charles Ross at the Judson Church Nov. 1963. Performed by Lucinda Childs, Marty Greenbaum, Lulu, Alex Hay, Tony Holder, Alfred Kurchin, Yvonne Rainer, Sally Gross, Carla Blank, Al Hansen and Dick Robbins.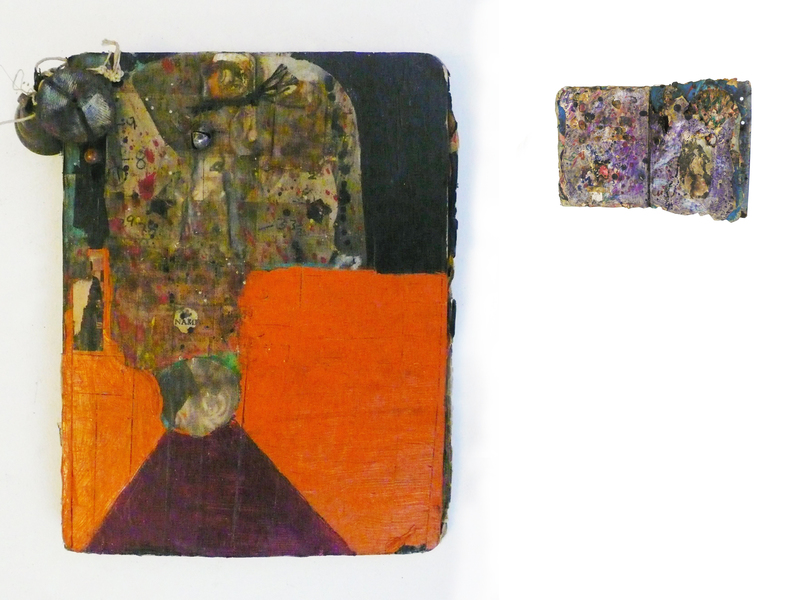 On Your Toes
1965
mixed media
9.5 x 14.75 x .25"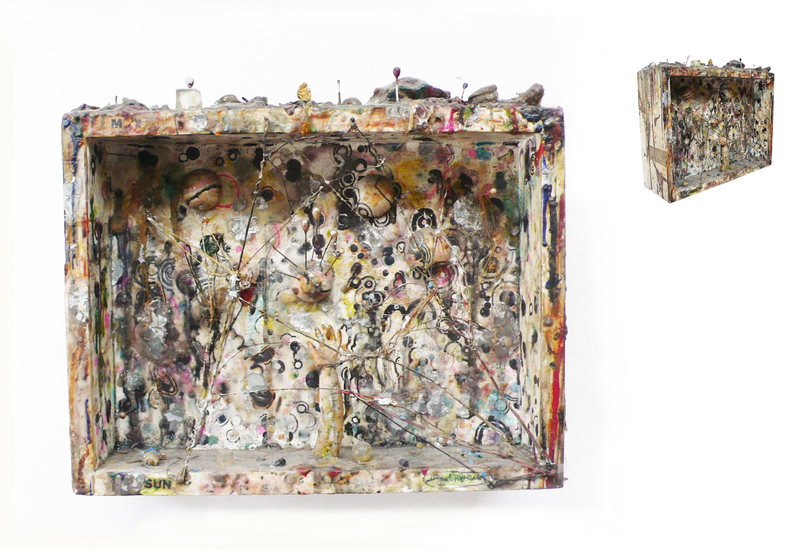 Reachinig Out
1968
mixed media
11.5 x 13.5 x 4.5"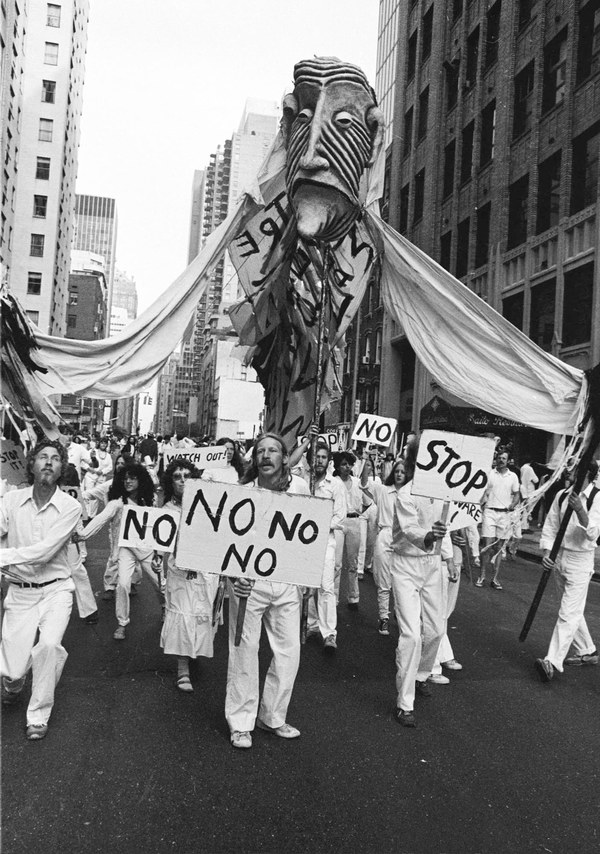 Bread and Puppet Theater performs during a protest in New York, circa June 1982

As a conscientious objector, Marty was involved with public theater and protest, specifically the Bread & Puppet theater where he worked frequently with Peter Schumann. (1963)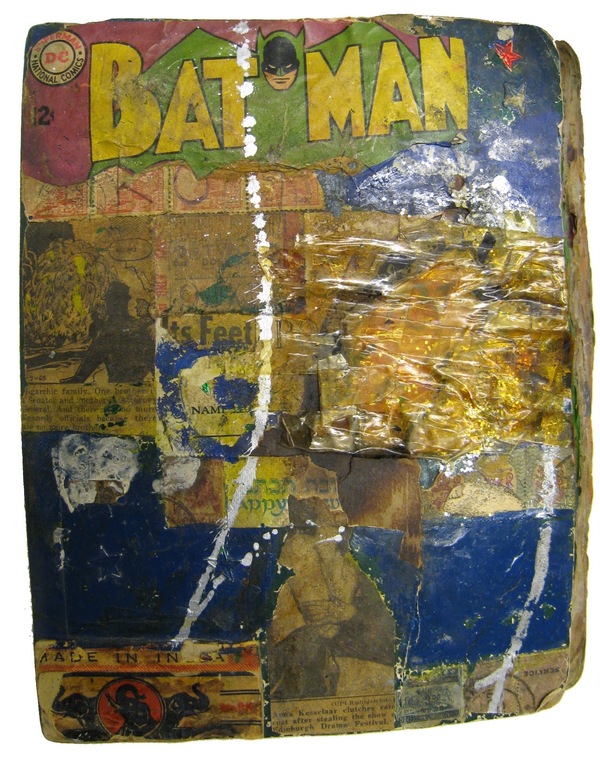 Marty Greenbaum's 'tripbook' "Batman" which he created between 1963-67 while living in Downtown New York.
Courtesy Fales Library
; Link to Batman on website
Book as Art
"Greenbaum, an early conceptualist, burned books in the 1960s, exhibiting the remains as 'corpses.' Today he makes fetishistic notebooks filled with colored paper and scribbled equations, accretions of feathers and Rhoplex." Guy Trebay, The Village Voice, Jan. 10, 1977
Greenbaum Artist Books, 1960s
In the mid 60s Marty was experimenting with the concept of 'book.' He saw the potential of book and book format as a basic art form to be addressed via imaginative and creative inquiry.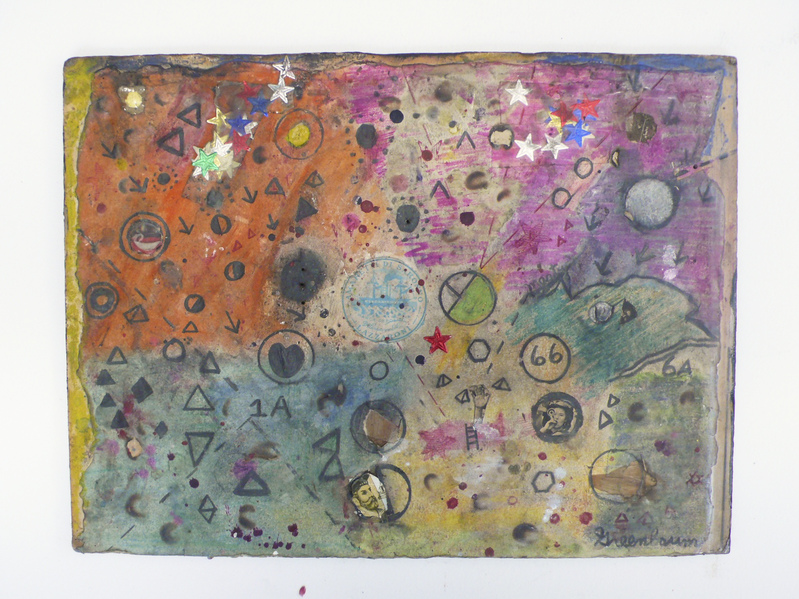 In Route
1966
mixed media
9 x 12"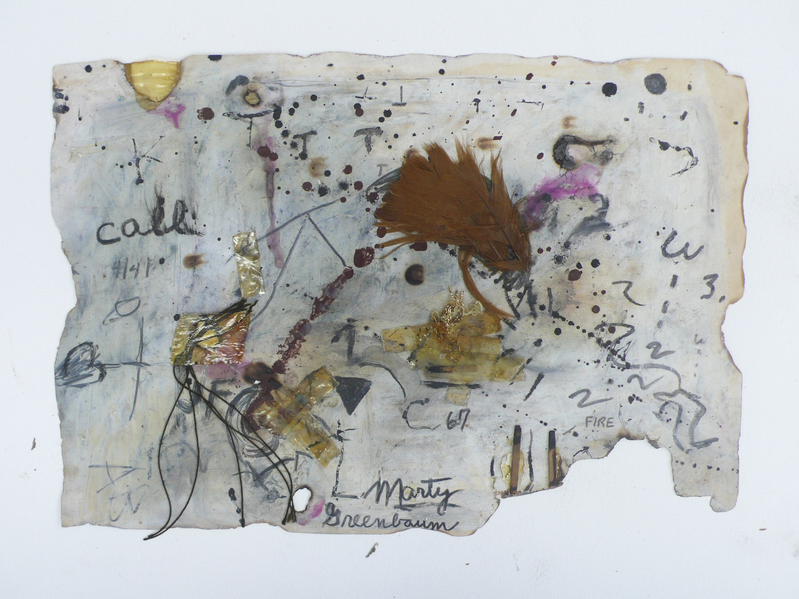 Call
1967
mixed media
9 x 13"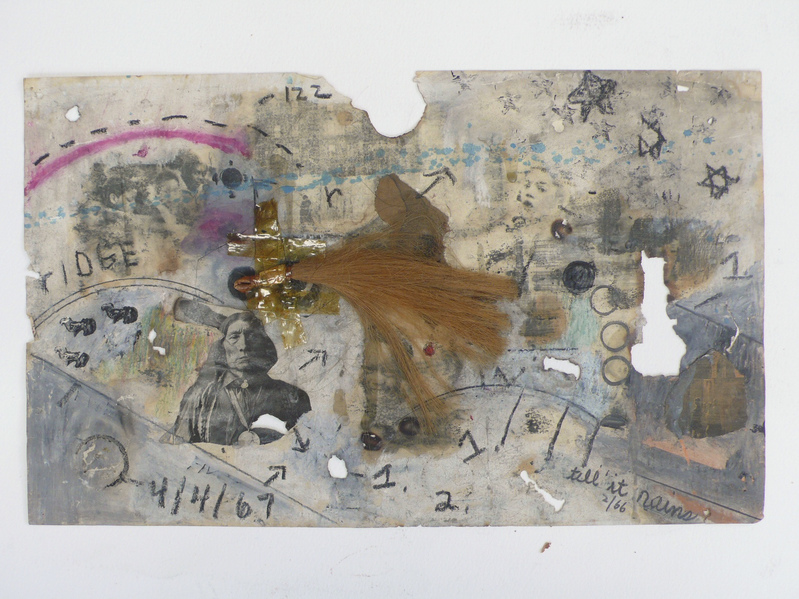 Til it Rains
1967
mixed media
8.5 x 14"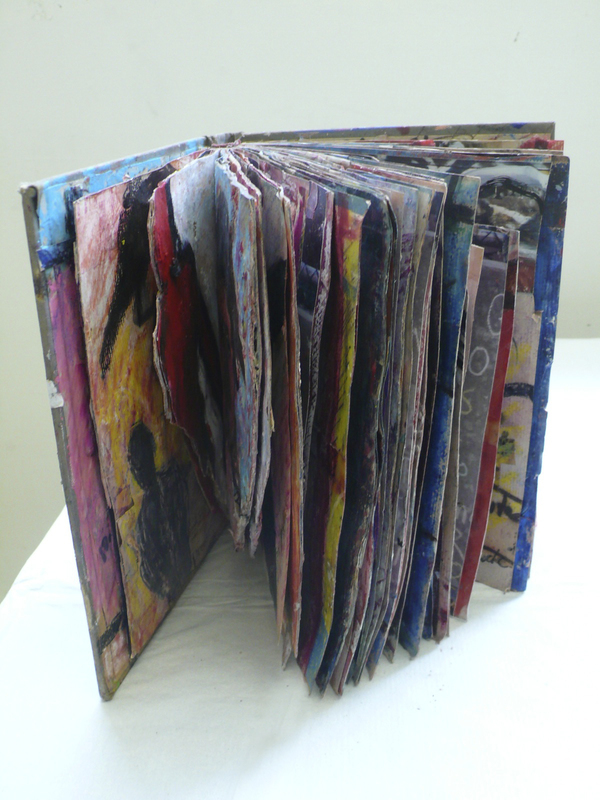 Marty's 'books' were included in numerous exhibitions of the period. Highlights:
Artists' Books U.S.A.
, a traveling exhibition curated by Peter Frank and Martha Wilson, Independent Curators International;
Metamorphosis of the Book
, Documenta 6, Kassel, Germany (1977);
In the introduction to their exhibition catalog, Artists' Books U.S.A., curators, Peter Frank and Martha Wilson wrote: "These book works range from the publication of purely verbal material hardly different in method or message from the items one encounters in bookstores and libraries to the
fabrication of unique sculptural objects whose shape refers deliberately to, and takes liberties with, the book."
catalogue, 1978
Full introduction here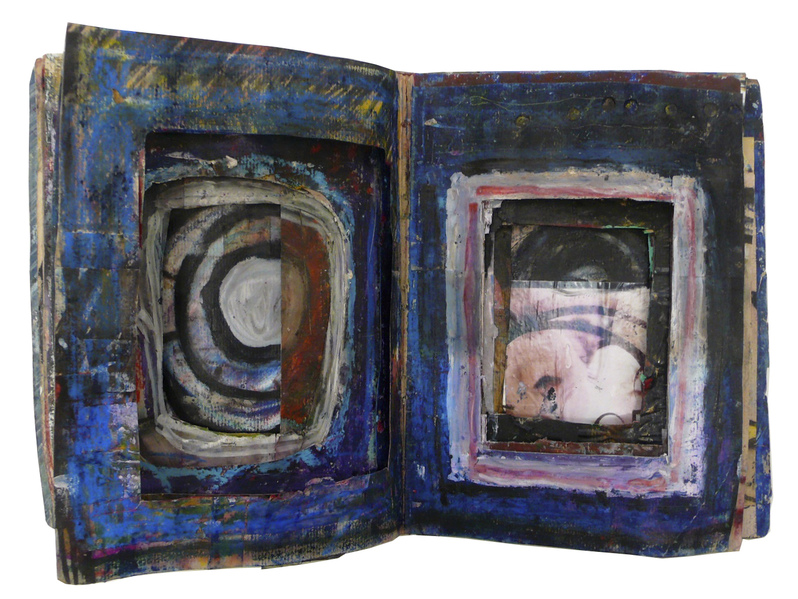 In '84 Returned in 2004, mixed media, 8.25" x 6" x 12", 1984-2004, Collection Brooklyn Museum Library, Brooklyn, NY /i<>

In Marty's words:
"Many techniques and strategies have been used in my mixed media books. By the time of 'In '84 Returned in 2004' I was cutting out shapes and opening up areas in the pages of a finished or an empty book. This device mirrored my sense of movement through space and time, the turning of the pages like a walk through the city, became an exploration of a multidirectional experience, ricocheting back and forth -- the going out and the coming back, the going forward and the return."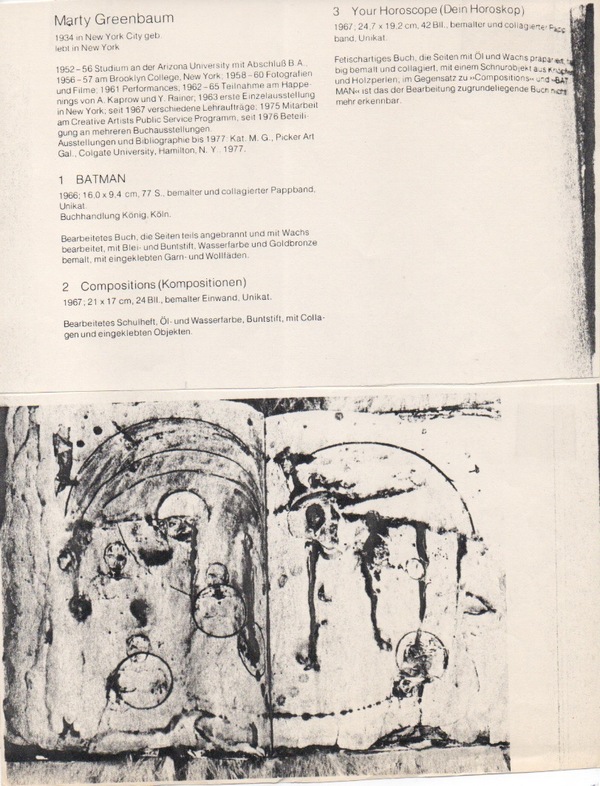 1 Batman, 1966; 2 Compositions (Kompsitionen), 1967; 3 Your Horoscope (Dein Horoskop), 1967.

Documenta 6, June 24 – October 2, 1977, Kassel, Germany
Artistic Director: Manfred Schneckenburger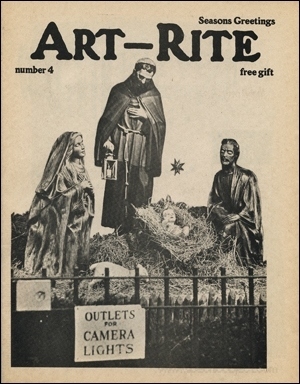 Coney Island Carnival: Basketball Game, Dancers: Jackie Ferrara, Vicki Dill, Carla Lopez, Abigale Rosen, Navana Davis, Bruce Waite, Remy Charlip, Renee Renee, Daniel, Guest Stars: Allen Ginsberg, Paul Krassner, John Hammond, Miles Bellamy, Ornette Coleman, Allen Kaprow, Phyllis Yampolsky, Warren Finnerty, Robert Frank,
Slides: Dany Lyon, Thomas Hoving, Al Carmine, etc.
Hallelujah the Hills, Dorothea Baer,
Bread and Puppet Theater Peter Schumann, Mark di Suvero
"Open Body", Judson Memorial Church, NYC, December 27, 1965

Marty orchestrated large events called "happenings," a burgeoning art form of the 60s, coined by Allan Kaprow in 1958.

Marty brought all of his artist friends together for an evening of screenings, basketball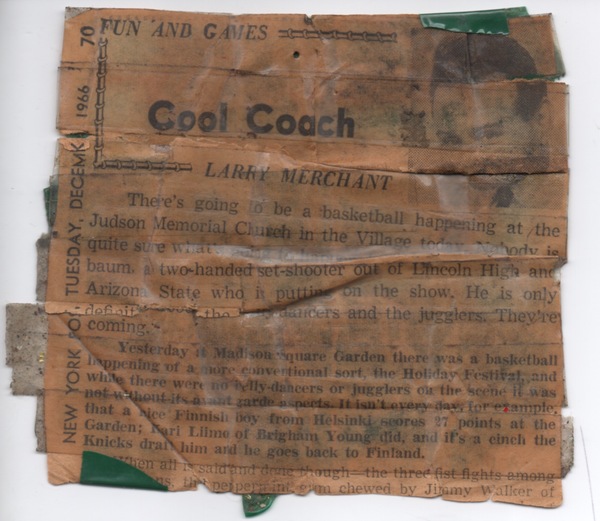 "Cool Coach: There's going to be a basketball happening at the Judson Memorial Church in the Village today. Nobody is quite sure what's going to happen. Greebaum, a two-handed set-shooter out of Lincoln High and Arizona State who is putting on the show. He is only definite about the belly dancers and the jugglers. They're coming."
Larry Merchant, Fun and Games, New York Post, December 1966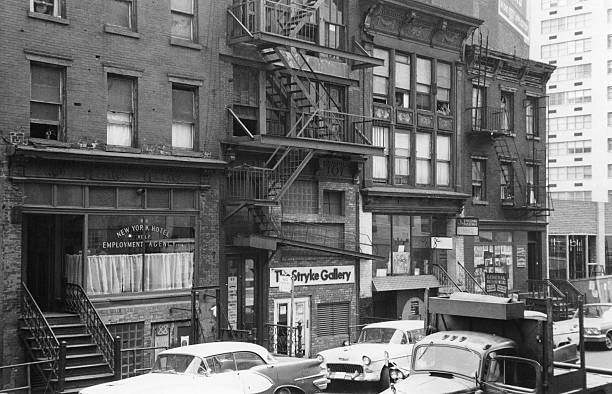 Exhibitions – Art Community
Stryke Gallery
"Marty Greenbaum [Stryke] is a sophisticated primitive. He says that his "social program is home and home is anything I'm in." His small constructions and notebooks (children's unlined school books) are full of the objects, toys, photos, stickers and clippings that he stumbles over in the course of any day. He seems to take pleasure in anything, so that no matter how crude the result – and his work is certainly crude – there is always that sense of living and pleasure about it. The notebooks are a kind of diary of ephemeral possessions and daily thoughts and activities as well as a direct projection of sensual indulgence. Bulging with wax and clippings, they appeal to sight, touch and smell." Art News, 1963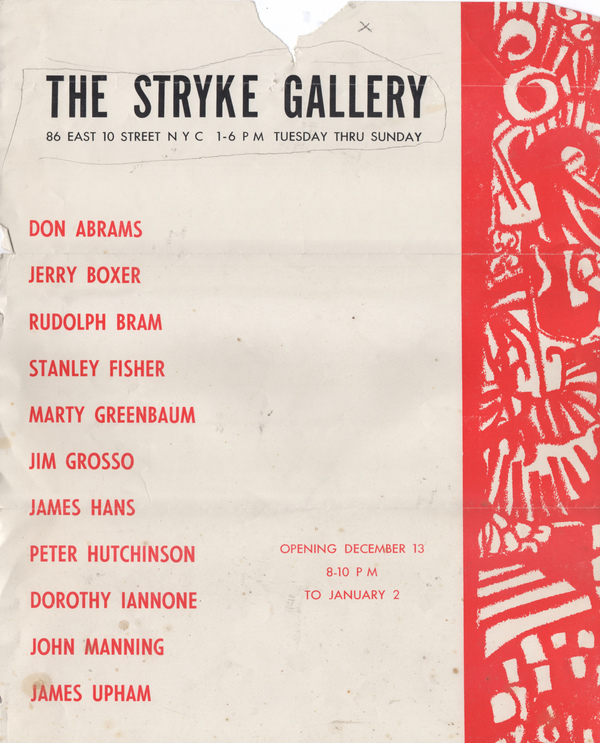 Stryke Gallery, NYC, 1965
"Marty's work has the chaotic immediacy of life itself. Animistic spirits could inhabit his work. His constructions include games-of-chance that don't let you win anything, swinging doors that open on nothing, pieces and parts to be moved at whim… Marty Greenbaum's work is genuinely messy, crude and seemingly generated by a kind of infantile depravity. The show has the look of a sleazy midway at Coney Island (where Greenbaum is from). It comes on as pathetic, trivial, and awful, and succeds at being thoroughly enchanting. Marty Greenbaum and Lulu, art, the village VOICE, January 14, 1965.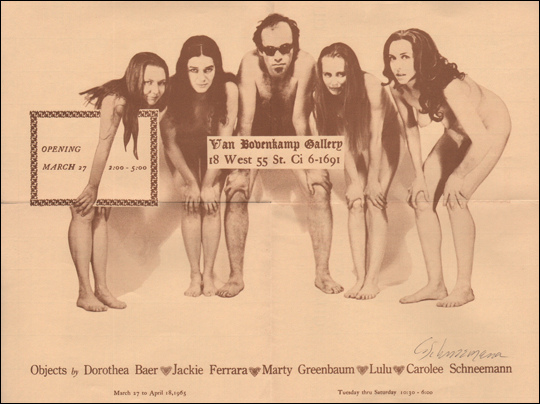 Objects: Dorothea Baer, Jackie Ferrara, Marty Greenbaum, Lulu, Carolee Schneemann, Van Bovenkamp Gallery, 1965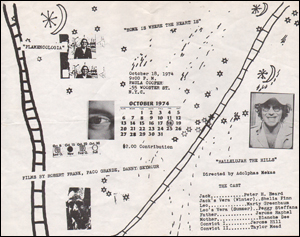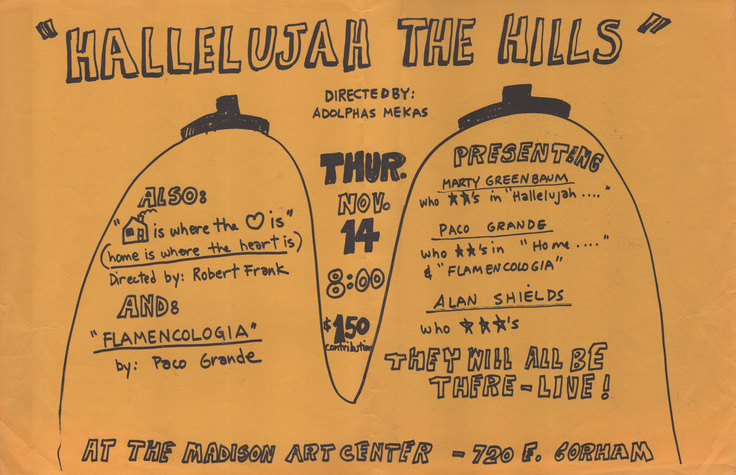 Hallelujah the Hills, Screening at Madison Art Center
Directed by: Adolfas Mekas; Home is Where the Heart Is, Directed by Robert Frank; Flamencologia by Paco Grande; and Marty Greenbaum, Paco Grande and Alan Shields, Madison Art Center, Madison, WI, November 14, 1974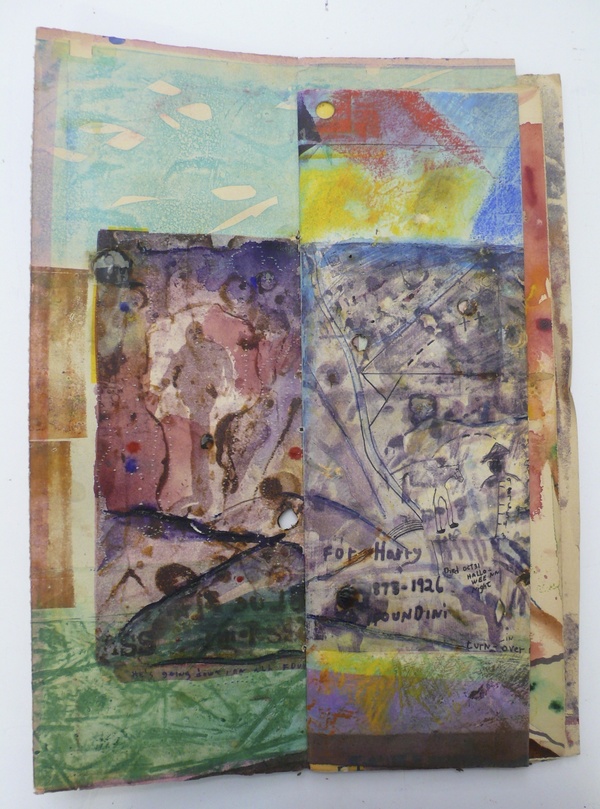 Blue Flames, mixed media, 18" x 13.25", 1974, Bill Weege print shop, Madison, WI
"We met at Bill Weege's print shop in 1974 when he drove out from NYC with Alan Shields and Paco Grande and I was a lithography printer hired to work with them. Alan recalled on the trip out that Marty was working on his altered books and putting airplane glue on the pages and lighting it with a match. Enough said. I printed for Marty." James Pernotto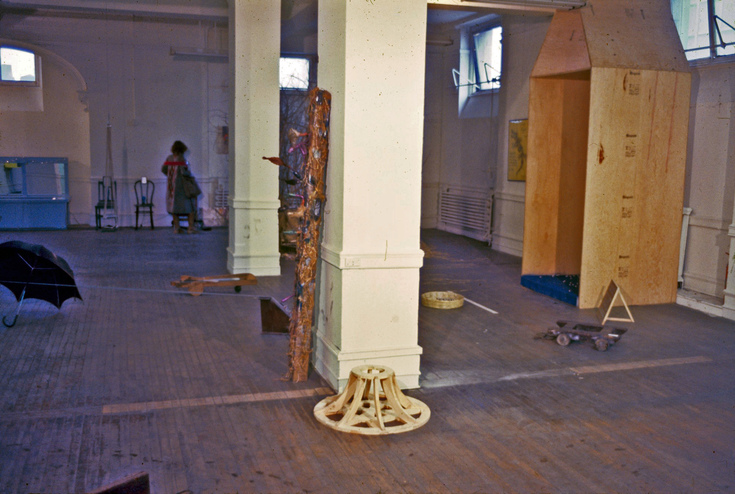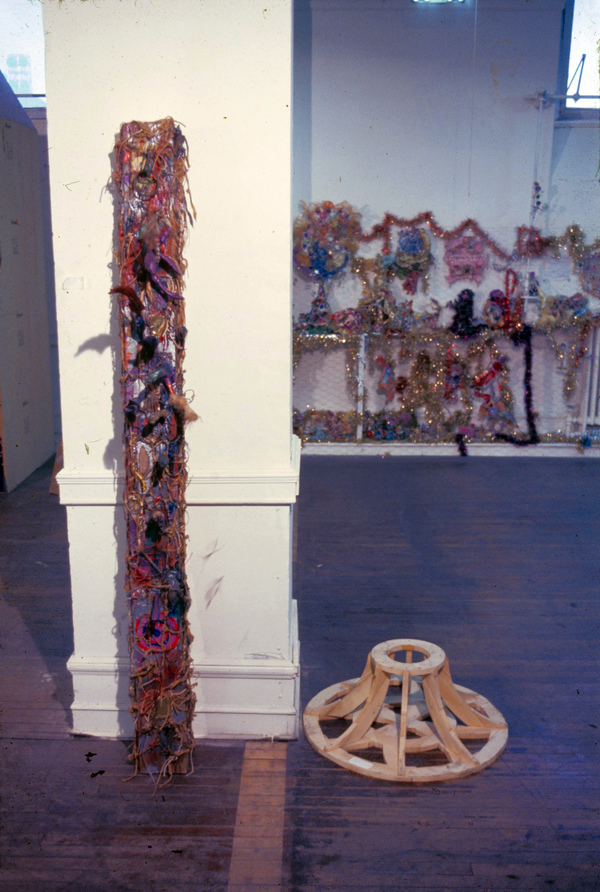 Play Piece/Art Darts, wood, chain, string, feathers, mixed media, 77" x 7" x 5" in Artists Make Toys, The Clocktower, NYC (The Institute for Art & Urban Resources, Inc., 1975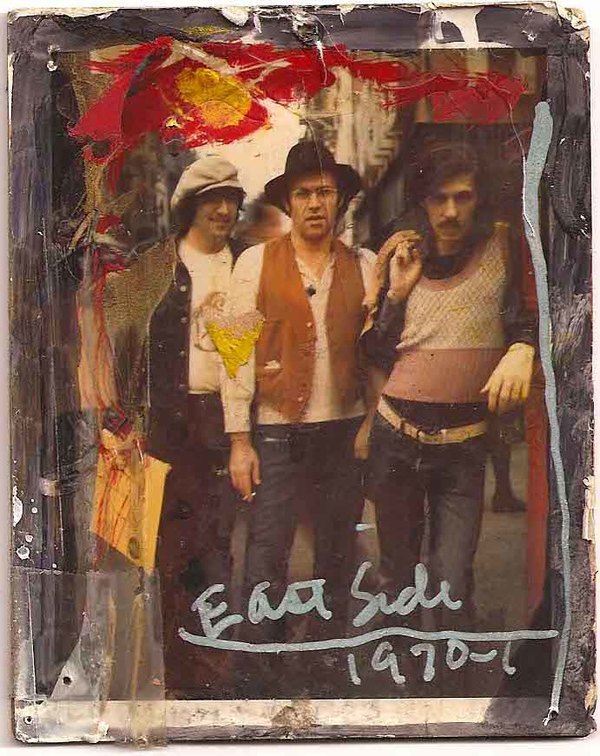 East Side 1970-71, Paco Grande, Marty Greenbaum, Danny Seymour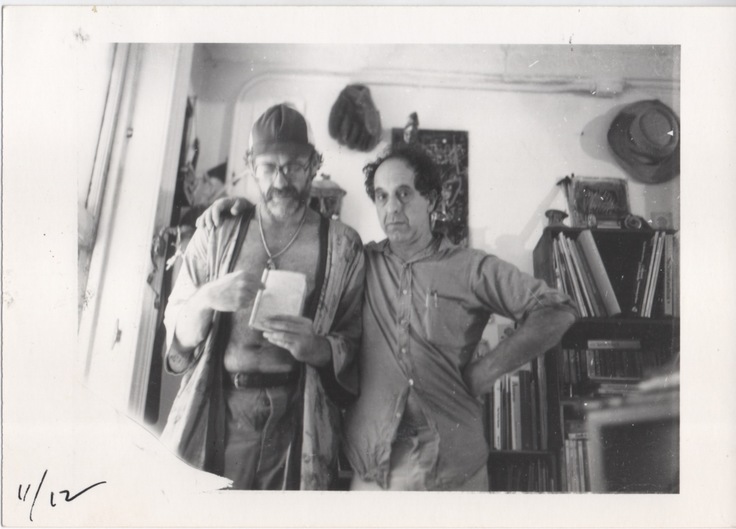 Marty and Robert Frank, New York City, 1978, Edition 11/12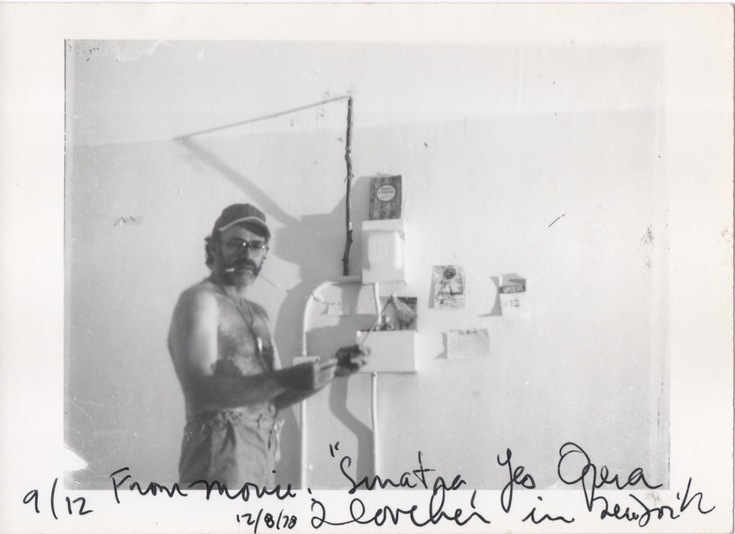 Sinatra, Yes Opera, I Love Her in New York, 1978, New York City, Edition 9/12
Marty danced at The Dom, a dancehall on Saint Mark's Place and Max's Kansas City in the East Village.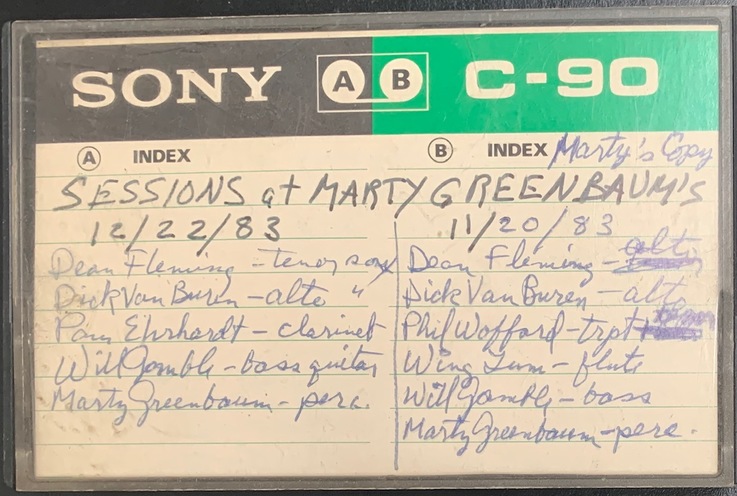 Sessions at Marty Greenbaum's 12/22/83, 11/20/83
Maiden Lane Loft Sessions were weekly gatherings from 1974-87 at Marty's Loft on Maiden Lane, New York City

Marty played percussion, bongos/harmonica.
Coney Island Strong Man, Marty Greenbaum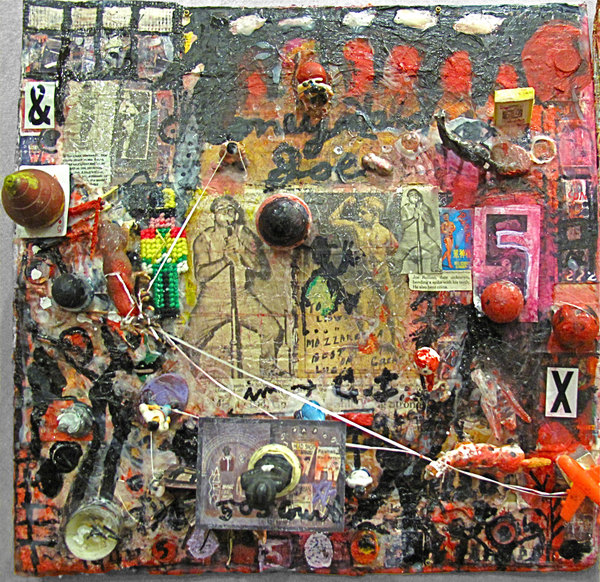 Coney Island Joe, 2010, mixed media, 18" x 18"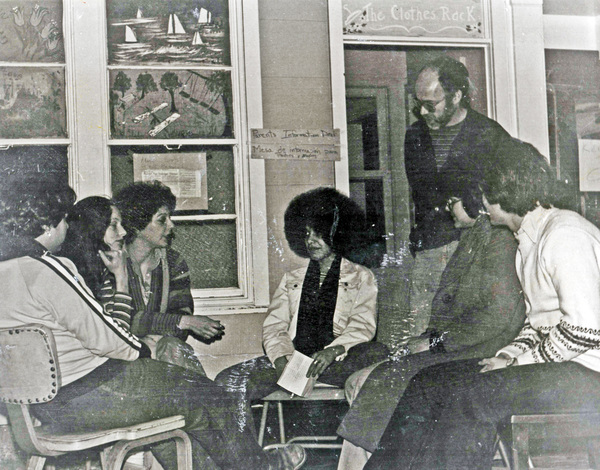 Teaching Art 1980-95

In 1991 Marty received a Masters in Teaching from Brooklyn College, NY.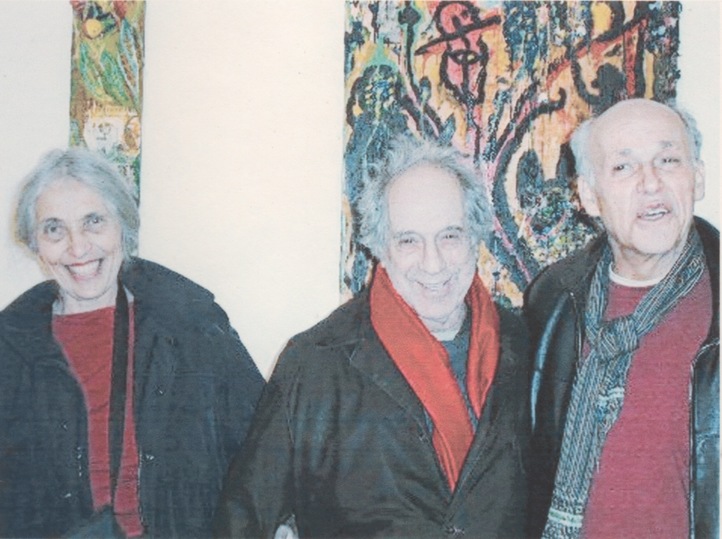 Marty Greenbaum's show at Pacifico Gallery, 2001 June Leaf, Robert Frank, Marty Greenbaum
Narrative text written by Eileen Mislove and Emily Harris. Contributions from friends and colleagues can also be found in "A Tribute to Marty Greenbaum (1934-2020)" published in The Brooklyn Rail, May 2021. With gratitude to Noah Edelstein, Marty's grand-nephew, for our many phone conversations.